Not all businesses have a firm grasp on who they are as a brand or even where to begin figuring that out.
To stand out among companies, business owners need to define the qualities of their brand effectively. Intending to be different and special? Or worrying about how you can sell your vision to customers? Our team will take care of it!
Founded in 2003, Propane is a digital experience and platform agency. Our team delivers experiences that inspire action with brands. We offer various services such as:
Brand Strategy
Creative Design
Content Strategy
Digital Experience
Development
Connecting Marketing Ecosystems
Propane created new paths for discovery so people could better find events they'd enjoy. We get down to business and provide memorable brands.

With that being said, it is our honor and privilege that we announce our latest milestone with Clutch.

In case you don't know who Clutch is, they are a hub for service providers that carefully curate lists of the absolute best agencies and organizations by industry and location, simultaneously enabling companies to establish credibility and buyers to find the right services. The ratings and reviews platform publishes the most extensive and referenced client reviews in the B2B services market.

Propane is jumping for joy to be recognized as one of San Francisco's top branding services for 2021! With pride and dedication, here's what our founder had to say:
"We're incredibly excited to be included in the Clutch Certified Business listing. This is really our biggest achievement this year, and we are inspired to do our best in everything we do. My sincerest gratitude to Clutch and its team. "  -- Neil Chaudhari, CXO, Propane
In light of this huge success, we thank our clients for their trust and support in taking their business to us. Without them, this wouldn't be possible. Your reviews on our Clutch's profile will be treasured and cherished forever.
Take a look at our 5-star reviews on our Clutch profile: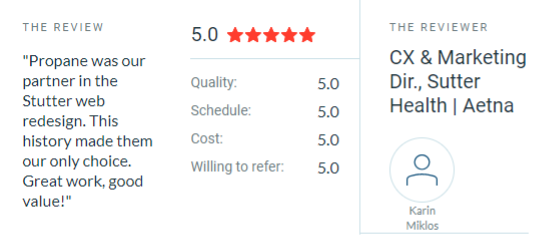 ---
Propane, Digital Agency - San Francisco
San Francisco, CA - 94110
415 550 8692