Small businesses help create a unique community identity as well as promote innovation and entrepreneurship.
It's no surprise that small businesses are the foundation of their local communities.
Amongst many other things, small businesses increase economic health, promote healthy competition, and create local jobs. And that's not to mention the individual benefits that small businesses have across industries and regions.
It'd be difficult to list all the benefits of small businesses, but there are other ways to recognize their significance. At this time more than ever, it's vital that economic players of all shapes and sizes come together to support and bolster small businesses and the individuals who comprise them.
We're a small business ourselves and that's why our leadership team here at Propane would like to take this opportunity to highlight our appreciation for our employees. We couldn't accomplish all that we do without their dedication and committed efforts.
Since 2003, we've been established as a digital experience and platform agency. Our small but mighty team of rockstars work to augment marketing and digital transformation initiatives.
We take pride in being explorers at heart. It has always been our mission to explore the limitless ways that digital technology can improve lives, business, and society.
Our team members embody our company culture here at Propane. They're crafty and cool-minded creators who brainstorm solutions, maintain active partnerships, and share a passion for delivering projects that make a real impact for our clients.
In a recent project, we handled UI/UX design and strategy of a member portal prototype for a healthcare venture. The solution received positive feedback about its interface and it's now being used by internal team members.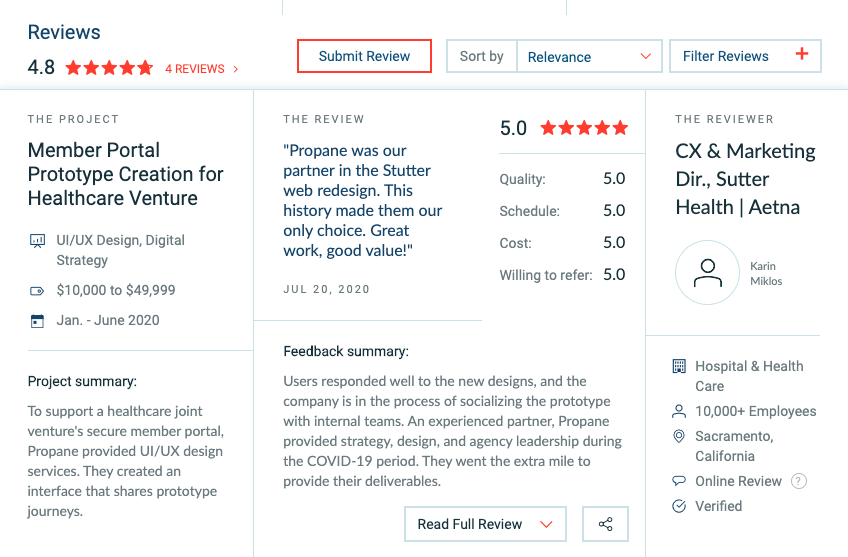 The CX and marketing director of the company kindly took the time to leave us an online review about our engagement. They said, "Vision of a future state, strategy, design, user experience, project management and agency leadership- they are the whole package. Mind you this was done during the COVID period and they did not miss a beat."
See what we mean by dedication? Our employees are devoted to providing support through every step of the process and are driven by our vision. We're grateful for this feedback because it helps us increases business visibility on platforms like The Manifest, where we're listed as a top agency in San Francisco.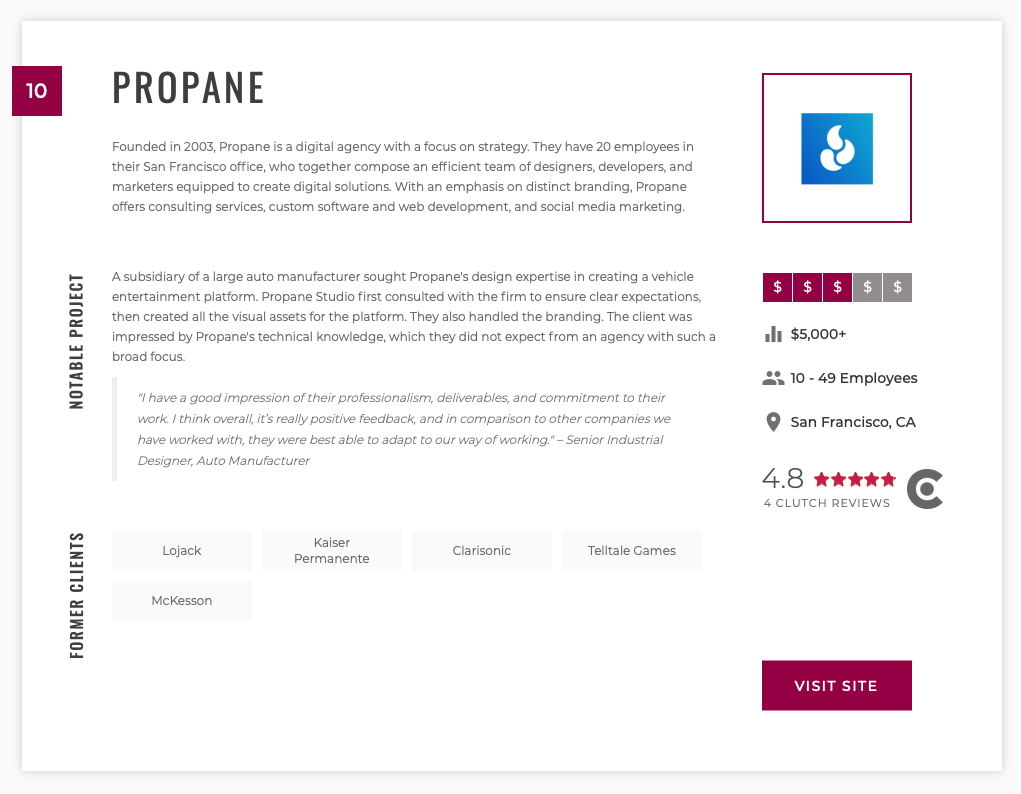 Our leadership team is thrilled to celebrate our employee's successes and accomplishments! Propane has also been recognized by other organizations such as DesignRush. We would like to extend a big thank you to our hard workers and want to express our constant gratitude and appreciation for them.

If you're ready to discuss your next project with us, let's talk.
Propane, Digital Agency - San Francisco
415 550 8692