Digital transformation has been the rocket propelling organizations to new heights, but only when implemented in the right way, shape, and form.
Organizations have become encapsulated with digitizing their operations from the ground up whenever possible.  For years, organizations have been able to create and implement new technology into their organization to benefit their processes, but those times have passed.
The organizations that continue to excel at digitizing their companies do so by taking into account their employees, processes, and data to provide intelligence and actionable insights. Using digitalization technologies as a supplement to their operations allows organizations to scale effectively and adapt to changing consumer behaviors.
Let's look closer at how digitization has changed and how your organization can seamlessly implement these new rules and tools to allow you to continue successfully thriving well into the future.
The New Rules of Digital Transformation
Many traditional companies have been operating under a narrow, 20th-century viewpoint that is deeply rooted in their understanding that success is determined by how well you can predict the outputs of your digital transformation efforts. Unfortunately, today's digital landscape demands a more modern approach that allows the organization to learn as it grows rather than constantly playing catch-up.
In essence, managing a digital company is similar to taking care of a living organism. The fact remains that an increased rate of change has been fueling the gap that continues to widen between digitally- enabled companies and legacy organizations. This shows how important it is not to delay your digital transformation efforts.
Digitally transforming your organization ensures that you can make additional incremental changes to your digitization processes faster and easier when the time comes. Organizations can accelerate their digital transformation even quickly by understanding where their operating model fits in the new digital landscape. This allows the digitally-enabled business to pivot in a sustainable fashion rather than just existing and hoping to keep its head above the water.
It's refreshing to see that more than 80% of respondents to the 2018 State of the CIO survey by CIO Magazine say that they are focused on digitally transformational work, with 50% of them focused on aligning their IT initiatives with business goals. These types of continuous improvements are critical to all aspects of digital transformations. Small increments and an attitude of "we are never done" enable success. These decisions allow their business to become more flexible, scalable, and dynamic while also giving them greater speed-to-market, efficiency, and resource utilization.
Companies that are positioning themselves for a digital transformation should undertake process to become more proficient at learning by following an evolving plan rather than an inflexible, pre- constructed model. With the International Data Corporation (IDC) projecting digital transformation spending to exceed $2 trillion this year alone, it is a strong sign of forward progress. Although, this is based on the assumption that these organizations are focused on digitizing their operations with their customers at the forefront of their focus.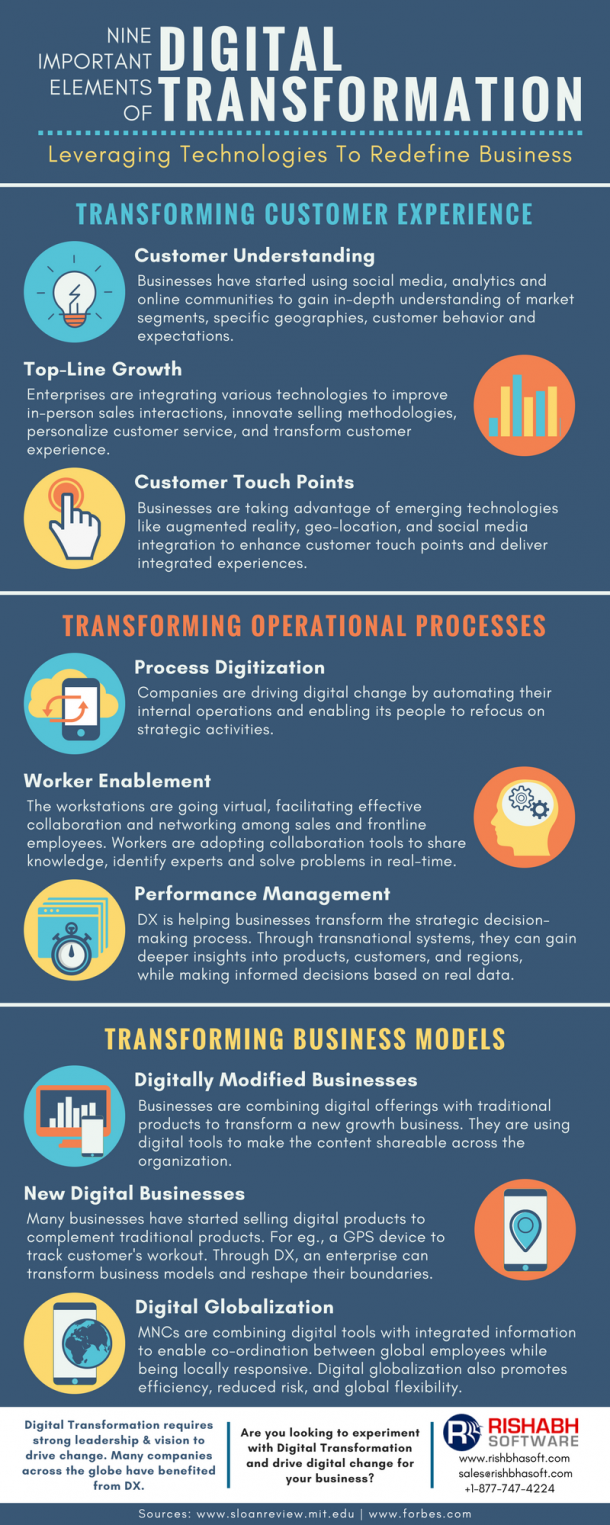 Adapting to Changing Consumer Behavior
As businesses begin to undergo their digital transformations, they may experience a loss of control over a myriad of different factors. Over time, they will experience increased competition via the threat of commoditization as well as the need to engage digitally with suppliers, partners and employees in addition to customers. To adapt to these changing digital environments, companies must innovate sustainably by taking elements of each channel that their customers value most and combine them to deliver a more valuable experience.
Bernd Wacker, Principal Key Expert Digitalization Innovation Technology at Siemens tells us that "true digitalization starts with disruptive innovation in the processes that determine or create added value, creating new value creation approaches (new business models) or radically increasing the share of added value at the expense of non-value adding activities." Companies that add a more structured approach to assessing their digital transformation based on the 'big picture' of what digital engagement means to the business tend to be the ones that obtain the most success. This structured approach is pivotal to the long-term feasibility of a digital organization as technologies are being developed and adopted by customers at tremendous speeds.
To put this in perspective, it took 70 years for telephones to reach 50% household penetration in the U.S., but only 28 years for radio and 10 years for internet access to become a basic and essential part of daily life. If this rate of technology adoption continues at its current pace, the future will see adoption rates measured in weeks and days rather than years. By embracing the shift in consumer power from physical to digital, brands can find ways to make the transition work for them in a mutually advantageous way.
Volume, Scope & Agility
Digitization opens up more doors for businesses looking to increase their level of consumer access, scope of their services and activities, and agility to quickly pivot if/when consumer demands shift. Consumers have been able to quickly shift their interests as brands have given them endless online and off-line options to research and buy new products and services no matter where they are. Brands that are able to execute their promotions best in the digital realm are able to stimulating sales and increasing market share at a more rapid pace than brands that cannot.
By making strategic decisions about the best pathways to build customer value, brands can overcome digitization road blocks and pinpoint opportunities to engage more effectively with consumers. Every touchpoint across a brand's digital customer journey is an opportunity to engage the consumer and build on the brand experience as a whole. As digital touchpoints across the customer journey continue to multiply, looking at your brand's customer interactions in a strategic manner allows you to convert interest to sales at a high level.
IDG's 2018 State of Digital Business Transformation tells us that 55% of startups have already adopted a digital business strategy compared to 38% of traditional enterprises. The main driver behind the success of these digital business strategies isn't the digital technology though; it's the customer experience. 62% of brands surveyed in the same IDG study said that the delivering an excellent customer experience as measured by customer satisfaction scores defines success as a digital-first business. Implementing such a complex digital business strategy requires massive collaboration between cross-functional teams that share a relentless commitment to iterative testing, learning, and (most importantly) sustainable scaling. Working at a breakneck pace isn't always the best solution, unless that is the pace that brands are most comfortable with operating in.
Digitization is incredibly important for business growth, but only when customer behavior is integrated into the strategy itself. In today's, digital world, organizations must understand the entire customer journey and creatively apply the right technology at the right time to build greater customer engagement. Businesses can now create consistently compelling and contextually robust platforms to engage customers across all touch points through a seamless convergence of digital channels into a single enhanced user experience.
Brands that are solely focused on building digital technology may lose sight on understanding the entire customer journey. By investing in its user experience (UX) throughout the implementation of digital initiatives, brands can circumvent pain points and improve customer satisfaction ratings and brand recognition. Building unified and pro-active cross-channel services will allow brands the ability to deliver differentiated customer experiences that drive loyalty and repeat sales without any digital growing pains.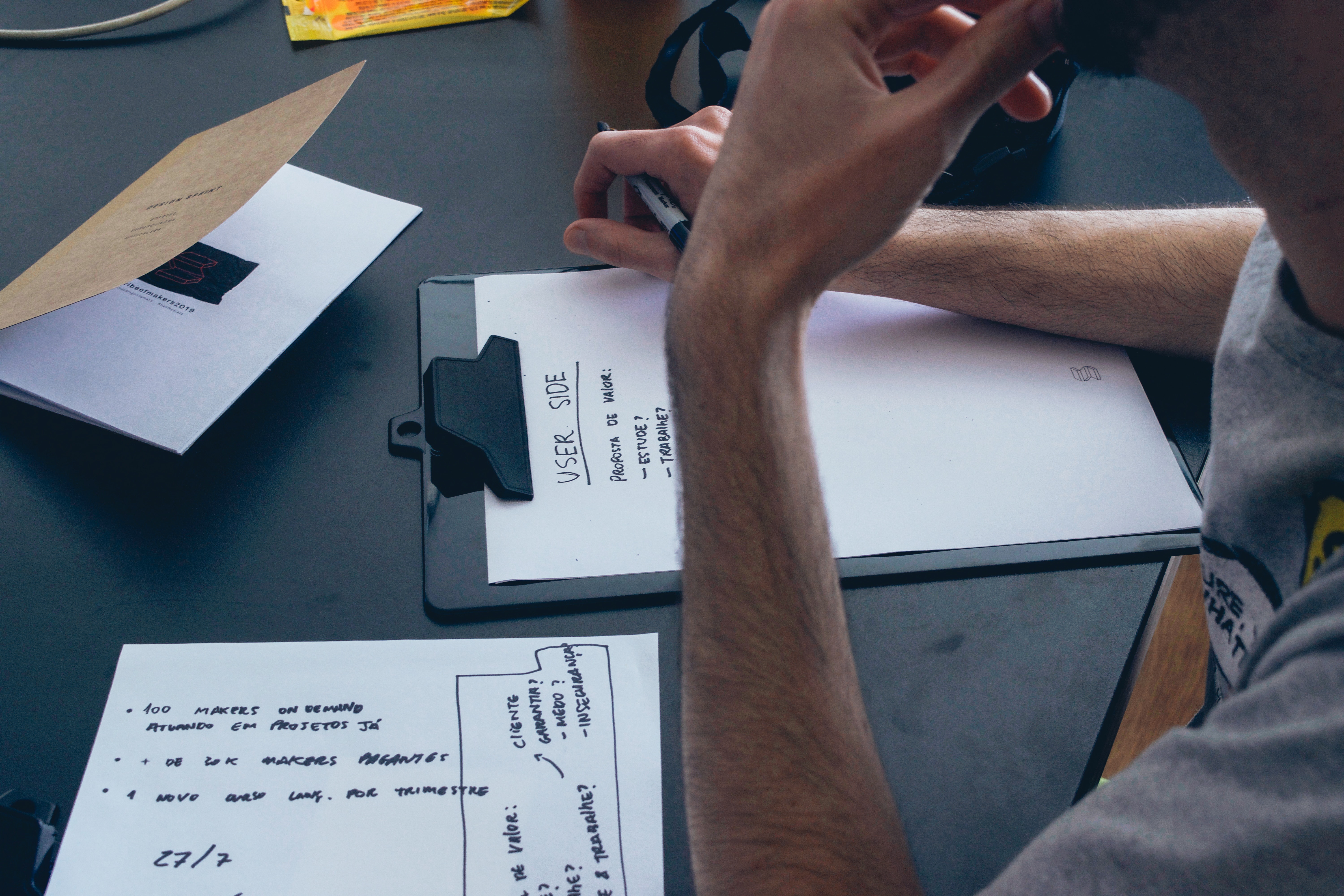 Banking
With rapidly-evolving technological changes occurring across all aspects of our lives, digitization poses fascinating challenges and opportunities alike within a brand's digital ecosystem. No industry is that more apparent than in the banking industry. Mobile banking has exploded onto the digital marketplace after rapid adoption that has allowed the industry to increase their customer traffic exponentially. With that increase, banking has had to play catch up with their back-end systems to ensure that they are operating at maximum efficiency to handle the substantial digital traffic.
Not only do these systems need to be efficient, but they also must be scalable which can effectively boost back-office efficiencies, reduce operational risks, and improve profitability. Within the customer journey itself, digitization allows for the distribution of a seamless customer experience that is built on the backbone of a responsive UX platform. Sure, having a sleek user interface (UI) is nice to have, but should supplement the underlying strategy behind the digital ecosystem that the customer engages with regularly.
With digital banking tools, consistent convenience is the name of the game. For instance, 73% of consumers are comfortable using their personal computer to retrieve basic account information, transfer funds (69%) or pay bills (69%) according to Q4-2015 Nielsen Financial Channel Track Survey. Digitization must still incorporate some physical flexibility as 73% of consumers in that same study also expressed interest in opening a new deposit account in-person at a physical location.
What this shows is that consumers are at a pivotal crossroads in transitioning their banking experience into a completely digital realm. Maintaining a higher level of security coupled with a consistently high level of convenience allows brands to make that leap alongside their customers with confidence in the scalability of their efforts.
Takeaways and Opportunities
As digitization continues to pave the way towards heightened brand awareness, companies need to be aware of ways that they can offer customers the seamless experiences that they crave. There are only so many man hours available in the day to tackle this task so companies need to construct technology- based solutions to double down on improving the customer experience. By engaging these buyers with digitization processes, companies can put themselves in a better position to deliver on their expectations of a seamless customer experience regardless of channel or place.
Robotic Process Automation (RPA)
If you have the means to do so within your company's digitization strategy, integrating Robotic Process Automations (RPAs) is the way to go for a variety of reasons. Recent RPA trends and forecasts anticipate that the market for robots in knowledge-work processes will reach $29 billion by 2021. For the banking industry specifically, RPA enables organizations to strike a better balance between their front, middle and back office processes. This allows them to operate at faster rates and become more reliable while also delivering unparalleled customer service.
But don't let the "Robotic" in RPA throw you off as it is not about physical robots. Instead, RPA is the technology that is based on software robots that allow organizations to focus on automating their most tedious tasks and activities. This allows back office and customer support roles to become nearly 100% automated, and gives the organization a chance to operate at a higher level instead of constantly being focused on tackling tedious tasks.
RPA can be transformative on an organization giving enterprises a means to create a true virtual workforce that drives business agility and efficiency. Once fully integrated and harnessed, companies can leverage RPA to reduce its reliance on outsourcing and hiring internally, thereby saving the organization a significant amount in fixed costs in the long-term.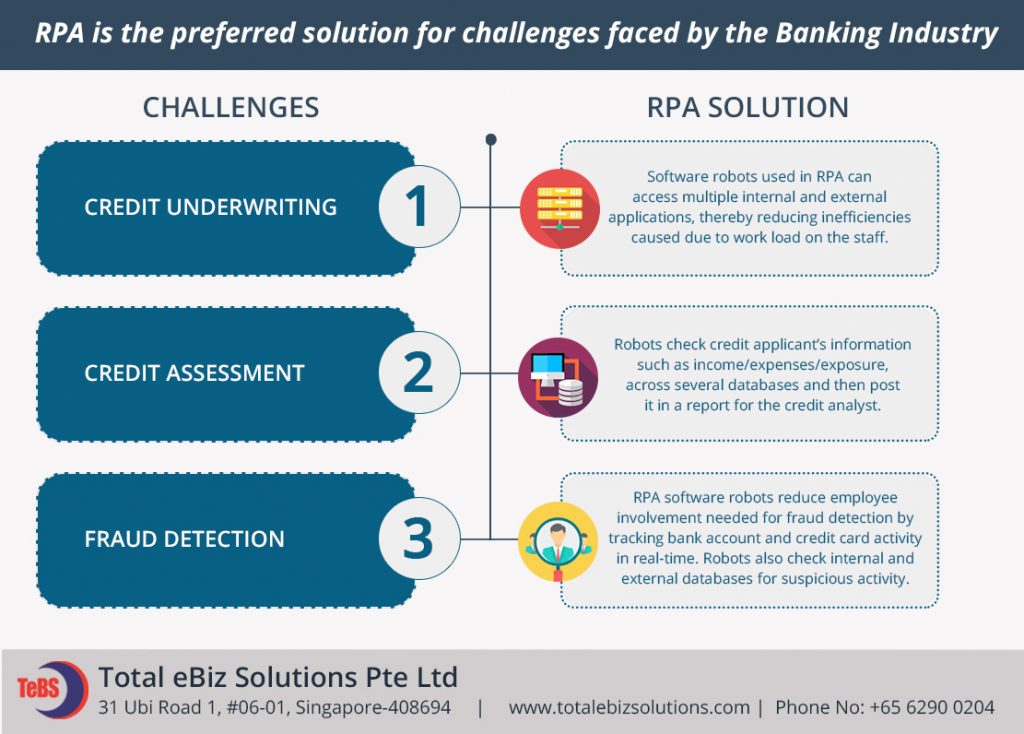 Closing Thoughts
If you plan to use digitization as the backbone behind your business strategy, it will behoove you not to bog down your customer experience with a plethora of technologies. Satya Nadella, CEO of Microsoft, one of the largest technology companies in the world, details how, "in a world where every company is becoming a digital company, we see examples of organizations in every industry embracing tech intensity to thrive and maximize their impact." A business that focuses on embracing their new digital landscape via digitization are rewarded in time as they are given the opportunity to exceed customer expectations and improve the overall customer experience exponentially.
---
Propane, Digital Agency
1153 Mission Street
San Francisco, CA - 94103
415 550 8692