The complexity of digital experience expectations has taken on increasing nuance and, in turn, strategic importance. The most recent positive experience a customer has with a brand sets the bar for their minimum expectations of future experiences.
Engaging digital audiences in the moment requires considerations beyond simply timeliness of engagement – the experience must be highly personalized and increasingly contextual to be useful, usable, and desirable.
Since the inception of the Bazaar which introduced mass market consumerism in the 4th Century, purveyors of goods have developed strategies to personally engage with customers in tactile interchanges. In contrast, a product of the late 20th Century, digital engagement with consumers, irrespective of time and space - and the immediacy inherent in the global scaling of digital commerce - is still very much in its infancy.
To meet the hyper-evolving expectations of digital consumers, building a consistent platform for customer engagement can influence positive changes in customer experience (CX) and employee engagement, fueling the virtuous cycle of commerce. To address the needs of the contemporary digital bazaar, Propane focuses on integrating intuitive touchpoints throughout the journey between brand and consumer to develop high-performing engagement platform solutions for our customers.
Creating Superior Customer Engagement Experiences
Today, 89% of companies compete primarily on the basis of customer experience – up from just 36% in 2010. Employing psychology-informed approaches based on continued advancements in human/computer interaction, Propane's approach to building customer experiences informs our thinking around intelligent platform design. This allows our team to create experiences that engage, educate, and convert customers throughout various touchpoints of the customer journey.
Presented with the challenge of creating an enhanced user experience (UX) design that helped to identify, create, and market new coverage options for Kaiser Permanente, a strict focus on patient centricity was essential in identifying (and solving for) the nuanced interdependencies and exchanges across the care value chain – from patient, to provider, to payor.
By focusing on solving human needs throughout the design and development lifecycle - with emphasis on removing friction in the digital patient journey - Propane ensured an increase in ease for patients finding the best value for their healthcare products, while simultaneously allowing Kaiser Permanente to increase competitive advantage in a crowded marketplace.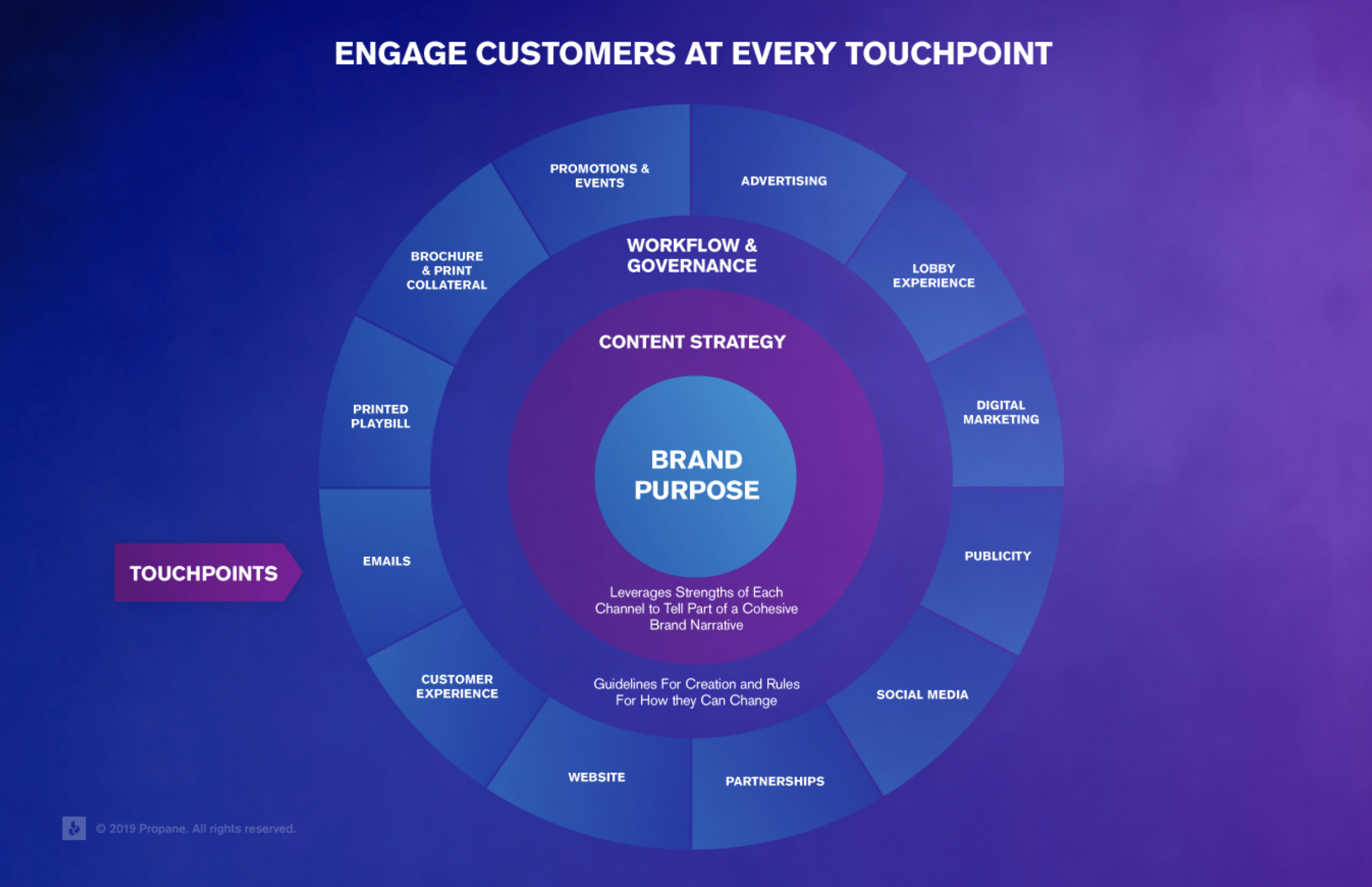 The Importance of Consistency in CX
Customer-centric companies are 60% more profitable than companies that de-emphasize focus on their customers and choose to employ a product or service focused approach to market. Jeremy Cox, a principal analyst at Ovum reveals that "today's story is around customer experience in its totality and the ability of the enterprise to support customers in a way that they will want to come back."
The work Propane has done with Sutter Health illustrates the importance of this engagement integrity through the delivery of single patient point of truth in brand/patient communications strategy. The team was tasked with consolidating and modernizing Sutter's digital properties, with the goal of reducing patient confusion and guiding customers to the right service at the right location to address their healthcare needs.
Leveraging a flexible UX/UI design for Sutter's network, developed with the patient experience at the forefront of consideration, the team were able to meet local hospital requirements and web accessibility guidelines and, in turn, grow mobile traffic as patients increasingly search for their healthcare information in the moment, expecting right information at the right time, in the right context.
The engagement resulted in a unified patient experience platform integrated across a highly complex informational system - delivering contextually relevance and heightened personalization to drive increased new and existing patient satisfaction.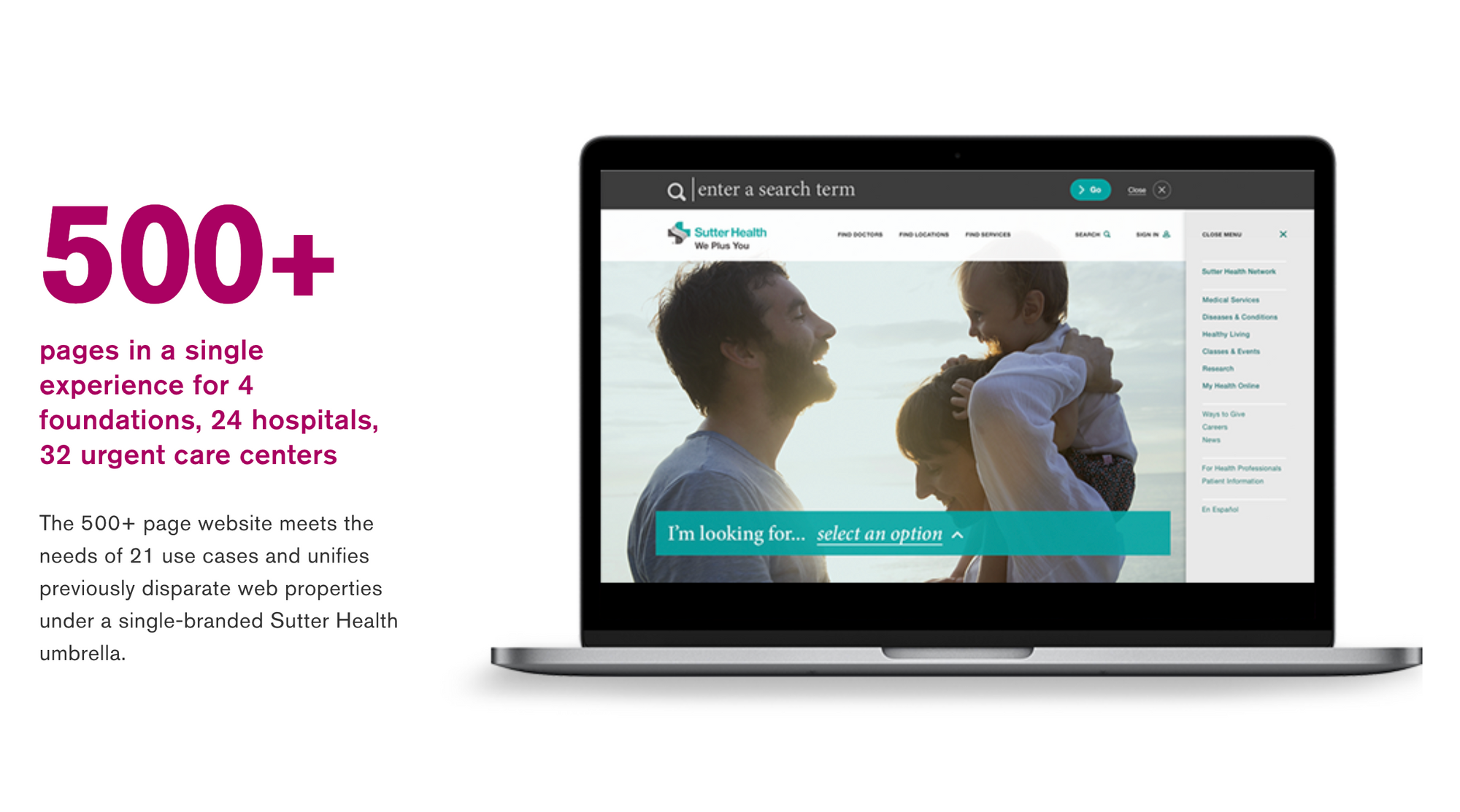 The Impact of CX on Employee Experience (EX)
One of the primary challenges facing organizations today exists in navigating the challenges of successfully engaging employees across multiple business units and stitching together these often disparate touchpoints to deliver a consistent customer experience. Breaking down organizational silos and focusing on achieving an integrated 360-degree view of the customer to deliver on a single source of truth helps ensure that each interaction initiated by the user triggers a contextually relevant and increasingly personalized response.
Emerging research in the discipline of employee experience (EX) illustrates the importance of having an engaged workforce as key to influencing enhanced CX across all potential organizational engagement touchpoint with customers. As evidenced by companies with engaged employees outperforming their competition by 147%, Forrester reports that 76% of executives believe that improving CX is a critical organizational priority and many have established a Chief Experience Officer (CXO) position to integrate and align the customer and employee experiences.
Propane was able to bridge the gap between EX and CX for Banner Health by reimagining their online experience to better guide patients' navigation through the complexity of existing Emergency, Urgent Care, and Nurse hotlines. In collaboration with Banner, the team were able deliver a simplified patient journey that increased confidence in personalized care decisions, leading Banner Health CMO, Alexandra Morehouse, to state: "the Propane team can navigate complex UX needs, provide creative that has the right amount of push while staying on brand, and employ developers that remain a seamless extension of your IT department. No project is too complex for the Propane team."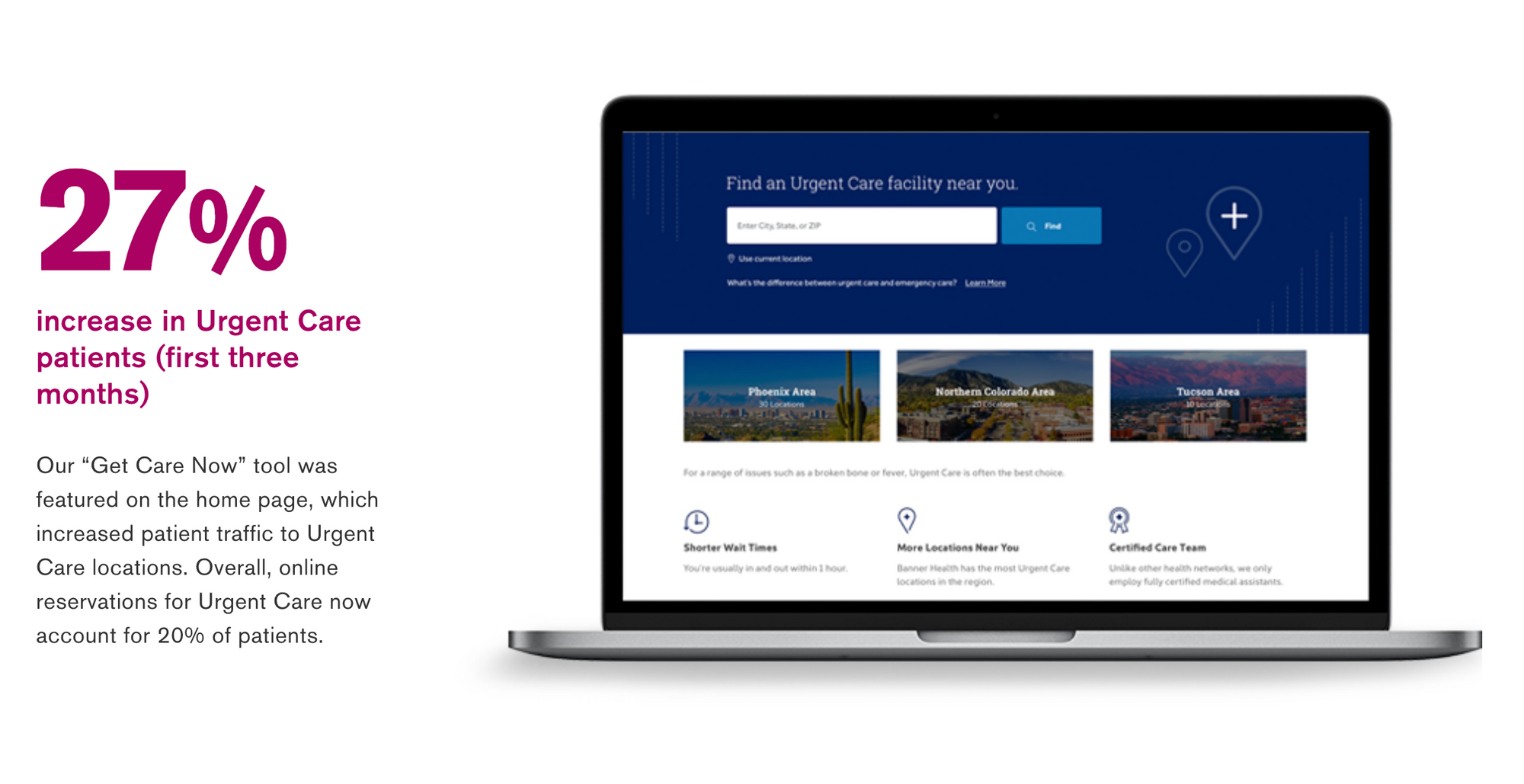 Please Don't Relegate CX to an Afterthought
Digitally savvy customers seek brand engagement on their terms, and brands must be capable of meeting them where they live and engaging with personalization and context. Strict focus on customer centricity is essential to address nuance in contextual engagement through a series of well-orchestrated and intuitive touchpoints throughout the journey between brand and customer.
Organizations that increase focus on CX are focused on value creation as paramount to their business success. These organizations endeavor to engage with their customers and employees in meaningful ways, rather than just a sales pitch. Using digital experiences as continuous feedback loops based on behavioral analysis provides the ability to incorporate real time experience data to deliver brilliant end-to-end customer experiences, great content, or interactive, real-time customer support.
Propane uniquely positions itself in comparison to other boutique agencies through a holistic focus on strategy, design, and progressive engineering to deliver business results. Propane's mission is in working with clients to create digital ecosystems where customers can have seamless experiences whenever they interact with their organizations. Your customers deserve your very best. Propane is here to make sure they get it.
Propane was recently listed in Top San Francisco Digital Agencies from DESIGNRUSH, we are honored to have made the list!
---
Neil Chaudhari, CXO
Propane, Digital Agency - San Francisco
San Francisco, CA - 94110
415 550 8692