Building a functional ecosystem that sustains growth outside of the scope of innovation while self-regulating and monitoring the evolution of the digital ecosystem is important for any modern healthcare organization.  
With so much focus around healthcare organizations innovating their processes instead of their technologies, ecosystems are being seen as more of a priority than innovations to expand each organization's ability to treat more patients.
Despite advances in the use of electronic health records (EHR's), the healthcare industry has struggled recently with sharing health information and making patient data available across the healthcare system while still remaining HIPAA compliant.  The sense of urgency in tapping into innovation is driven by the accelerating pace of digital transformation and the disruptive potential of the entry of well-funded large, non-traditional players from the technology and non-tech worlds into healthcare.
Healthcare systems are still largely paper based, ignore information tools that can facilitate evidence-based best practices, and function without analytics to qualify and quantify the care they provide.  Medical decisions are made according to implicit criteria embedded in the physician's reasoning and knowledge rather than explicit criteria that can be evaluated and updated.  As tech industry leaders continue to divulge their understanding of developing these complex digital ecosystems in the healthcare industry, organizations may bel more inclined to deploy them in their infrastructure to better meet their patient's needs.  Let's review the most innovative digital ecosystems currently present in the healthcare industry and how they strive to empower patients by improving the quality of care, safety, accessibility, and cost efficiency.
Building a Digital Healthcare Ecosystem Matters for Patients
Today's healthcare organizations are finding that they are ill-equipped to deal with the rising chronic disease burden due to their centralized sick-care model which is altogether ineffective for long-term treatment of this magnitude.  By extending and virtualizing disease management outside of traditional health care facilities to where patients live and work, healthcare organizations can simultaneously facilitate integration and coordination along the care continuum from prevention to treatment.  Doing so can help alleviate the tension of chronic disease management and provide a more continuous, proactive, and effective platform for high-level quality of care.
With $28.7 million in financial penalties having been paid out by healthcare organizations for HIPAA violations in 2018 alone, it shows it maintaining a secure digital platform is still a tough task to accomplish for some.  Although these fines may seem incredibly large, they're a mere drop in the vastness of indirect costs for treating chronic disease that have led to $3.7 trillion in lost productivity worldwide.  The rise in chronic disease has been fueled in large part by the obesity epidemic. Obesity affects almost 1 in 5 children and 1 in 3 adults, putting people at risk for chronic diseases such as diabetes, heart disease, and some cancers. Over a quarter of all Americans 17 to 24 years are too heavy to join the military. Obesity costs the US healthcare system $147 billion a year.
From apps and wearables to remote monitoring and virtual care, a plethora of health products have been flooding the consumer marketplace lately.  These products also include mobile and cloud technologies that are combined with big data and advanced analytics that position organizations as innovators in disrupting the standard sick-care model that has stagnated chronic disease treatment in the past.
When made available, consumers have now passed 52% use of online medical records.  This is a growth 10 percentage points in just 3 years and crossing the 50% usage is the tipping point for investment into an area becoming more in demand and expected by consumers.  More relevant statistics can be found at HealthDate Management from an October 2018 article by Fred Bazzoli titled Individuals' use of online medical records is on the rise.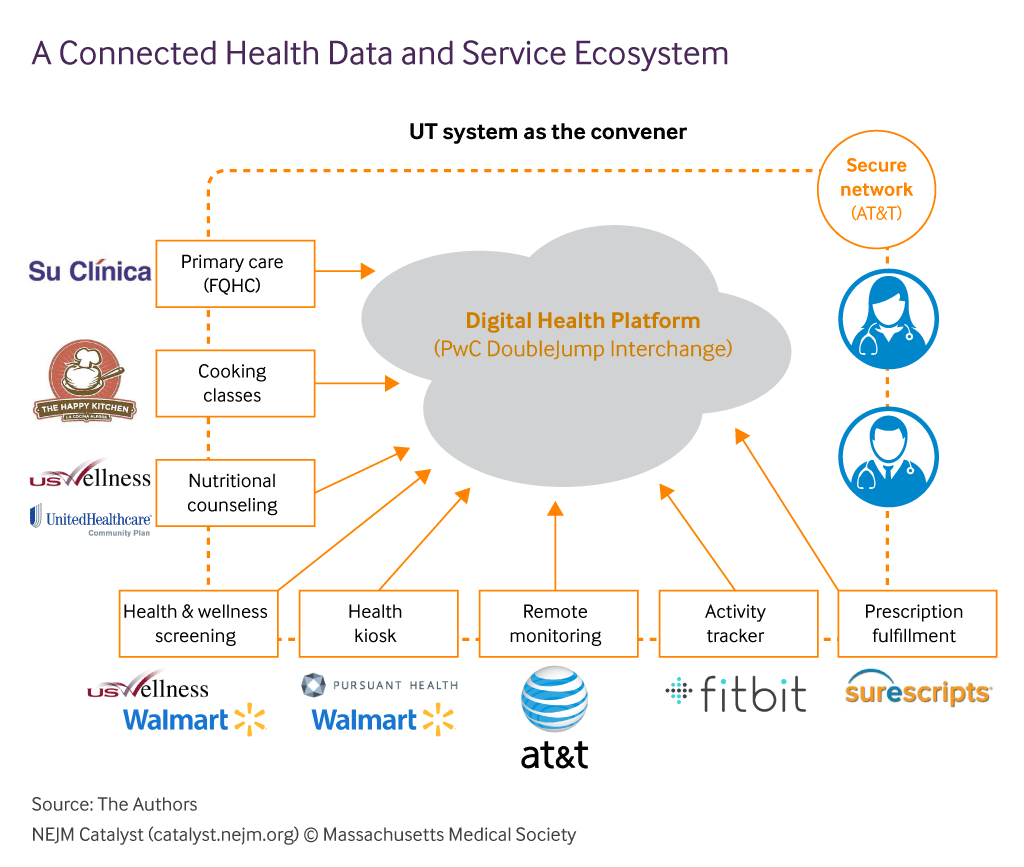 The Path to a Digitally Enabled Ecosystem
A digital healthcare ecosystem comprises every touchpoint on the journey to patient care.  It is a self-organizing digital infrastructure aimed at creating a digital environment for networked organizations that support the cooperation, knowledge sharing, and development of open and adaptive technologies for evolving business models.  Proper digital ecosystems are populated by digital components that evolve and adapt to local conditions.  These systems can better scale and do not suffer from the possibility of failing due to only having a single touchpoint.
As of now, consumer engagement experiences in healthcare organizations still remain fragmented and under developed regardless of the digital components that are being integrated into the digital ecosystems.  A recent Deloitte article found that only 22% of consumers feel that their health plan is integrating or utilizing their data at all.  As other industries are using consumer data insights to better understand and define the customer experience, healthcare organizations are branching out to provide a better end-user experience at the pharmacy level by launching their own Pharmacy Benefit Manager (PBM).
By diving deeper into digital health technologies, many healthcare organizations are designing digital tools in-house and acquiring smaller firms and startups with digital capabilities to take advantage of their skilled development teams and flexible platforms.  As advances in technology redefine what we are capable of developing while the healthcare industry grows exceedingly more complex, organizations are finding that digital systems and platforms must communicate at the same rate that doctors and patients communicate with each other.
If the healthcare industry is to continue pushing the boundaries of what digital healthcare ecosystems are capable of and ride the ripple effect of innovation, they must change deep-rooted behaviors; not just within legacy systems, but within themselves.  With healthcare firmly on the path to a digital future, organizations must continue their goal of maintaining relevance and viability to their patients.  Through the development of a consumer-centric, fully integrated digital ecosystem that can solve health care's problems and meet customers' expectations, healthcare organizations can understand the strengths of others and the value they can add when their collective expertise is shared.
Building a Digital Ecosystem of Care
Some of the more common customer patient demands in terms of digital functionality pertain to being able to email doctors and other health professionals, see test results, refill prescriptions, make appointments securely, and manage their bills, all through an online portal.  Developing an integrated, digital ecosystem solution for healthcare organizations enables them to maintain compliance standards while also supporting any connectivity requirements to ensure sustainable flexibly between ecosystems of providers, patients, government organizations, and financial partners.
The first Digital Health Ecosystem Report from Business Insider found that digital health was at the forefront of transformation in the healthcare industry, making it both a driver of innovation and an answer to the industry challenges.  With over $6.8 billion of funding hitting healthcare organizations at the end of Q3 2018, we can see that the industry is laying the foundation for their digital awakening through key digital health solutions such as EHRs, digital therapeutics, telehealth, AI, wearables, and blockchain.
Digital ecosystems enable healthcare organizations to track, report, log, and control sensitive medical, pharmaceutical, and patient data, making them a critically component to patient confidentiality.  Leveraging these customer data insights alongside an elegantly designed digital ecosystem ultimately ensures the achievement of one key advantage: attractiveness to newcomers.  While the steps to creating a digital health ecosystem solution will differ for each organization based on its unique mission statement and goals, one way to start is by taking the pulse of an organization's current digital health.  
When a digital ecosystem works as intended in a healthcare environment, word will eventually get around to other organizations who will identify opportunities to fill gaps and build-out existing capabilities in key areas.  Even if a functional digital ecosystem were to allow a healthcare organization to benefit in an area of operation as innocuous as logistics, another organization with a similar mission statement and structure may use that same ecosystem as a foundational blueprint to build their own digital ecosystem.  Although it may not technically be innovation in the radical sense of the term, the end result is innovative if it can be effectively integrated into the organization to service the needs of the patient community.
Opportunities and Takeaways
One opportunity for digital ecosystem improvement in the healthcare industry was spearheaded by Siemens who recently launched a cloud-based platform that featured a wide variety of digital programs and clinical tools including imaging, in-vitro diagnostics and medical documentation, and even genomics data.  Marc Lauterbach, VP of Marketing in Digital Health Services at Siemens, proclaimed that the goal of the organization was driven on "[creating] an open, relevant digital ecosystem covering all the aspects of the healthcare system," thus showcasing the focus of creating the process of platform adoption from the customer level simple and easy-to-use.
GE Healthcare has also showcased that it is a company on the cutting edge of the digital healthcare ecosystem revolution after unveiling their cardiac magnetic resonance imaging (MRI) solution ViosWorks.  This solution was developed to reduce MRI assessments to a fraction of the time it takes for conventional cardiac scans.  GE also launched a cloud-based machine-learning platform designed to deliver fast visualization and quantification with automatic analysis.   Together, GE and ViosWorks are focused on streamlining the digital platform to enable an incredibly rich set of patient data that can be used retrospectively while also being used for future planning for treatment paths.
The digital transformation poses a threat to slow movers in the healthcare industry, as new entrants from the tech industry are beginning to lean on their digital prowess and lack of legacy infrastructure to cut costs and remain agile.  To ensure their continued market share remains intact, healthcare organizations are turning to acquisitions, partnerships, and new investments to strengthen their digital health services rather than innovating to develop those digital ecosystems themselves.
Future technological applications include heart rate monitors installed in new car seats that monitor blood pressure via artificial intelligence (AI).  Based on the data that would automatically accumulated by these products, tasks would be delegated to the appropriate healthcare professional to be performed by doctors at the appropriate time.  Remote diagnostics, data management and personalized pharmaceutical tracking solutions are also opening up new realms of activity for those suffering from chronic ailments, acute conditions or even simply wishing to improve their quality of life.
The Acceleration Towards a Patient-Centric, Value-Based Model
Many healthcare organizations are beginning to create innovative business models to create a competitive advantage.  The integration of these innovative business models and digital ecosystems in healthcare environments comes with an array of implications that require a bit of a balancing act to evolve.  By accelerating towards a patient-centric, value-based model that delivers products that provide both value and best-in-class quality, healthcare organizations can provide secure yet seamless interoperability, therefore increasing their value proposition, maintaining their transparent, and driving improvements across the value chain.  Through developing an integrated approach to digital ecosystems that support the alignment of organizational structure, talent, culture, tools, and techniques, organizations can maintain their relevancy and prepared for the future of connected digital healthcare.
---
Propane, Digital Agency - San Francisco
1153 Mission Street
San Francisco, CA - 94103
415 550 8692