Coffee is one of the world's favorite beverages and a major source of caffeine, coffee continues to be an essential factor in society's daily routine.  
Dunkin' Donuts has been a mainstay in the coffee industry for nearly 70 years dating back to 1950 when founder William Rosenberg set up the first location in Quincy, Massachusetts with the intention to sell to nearby construction sites where coffee and donuts were the top selling products.  Over the years, Dunkin' Donuts has expanded consistently, not due to their focus on providing new and exciting products, but rather through their brand marketing and advertising practices.
Recently, Dunkin' Donuts made a big push to re-brand and take a bite out of the massive global coffee industry that's valued at well over $100 billion.  Although the global coffee industry is tremendously fragmented thanks to consumer appeal to mom-and-pop coffee shops that appeal to consumer's desires more a more humble coffee experience, Starbucks and Dunkin' Donuts still dominate the upper echelon of the industry at large.  Let's explore how Dunkin' Donuts has taken a donut-sized bite out of Starbucks' market share of the global coffee industry thanks to spending more than $100 million on a focused rebrand.
Dunkin' Donuts vs Starbucks
In the U.S. alone, there are roughly 150 million daily coffee drinkers.  Although this figure has maintained a level of consistency in recent years, the locations that coffee drinkers choose to consume their favorite brew has ultimately changed.  Many factors have led to this pilgrimage of coffee drinkers from their coffee pots to their local coffee cantina, but, in the end, it has all come down to the advertising of two major brands: Dunkin' Donuts and Starbucks.
Dunkin' Donuts used to just be all about the donuts until the star of the brand's famous "Time to make the donuts" ads, Fred the Baker, retired in the late 1990s.  This led Dunkin' to pivot their business model completely, putting more emphasis on growing their coffee products over their signature donuts.  In 2000, Dunkin' announced their Dunkaccino which was the prelude to the company's "espresso revolution" in 2003 which saw the release of a new line of espressos, lattes and cappuccinos.
Although Dunkin' has been around for more than 20 years longer than Starbucks, they have found it difficult to chip away at Starbucks' estimated 36% market share of the U.S. coffee industry.   Sure, Dunkin' garners a roughly 24% market share, but they know that their market share could dwindle if plans don't work out in their favor.  While Dunkin' and Starbucks appear to be worlds apart, they do have several things in common even though they have their own distinct advertising policies.  Whereas Starbucks is more driven on word-of-mouth, Dunkin' has historically taken a more classic advertising approach while adapting to modern ad trends as the brand evolves.  
Both brands have a devoted following amongst locals and international consumers with Starbucks locations outnumbering Dunkin' locations nearly 2:1 (20,000 for Starbucks vs 11,000 for Dunkin').  Whereas Starbucks has focused on creating a connection between their consumers and the brand through in-store experiences such as music and their eclectic employees, Dunkin' has taken a more traditional approach to advertising their brand to consumers.  Although both advertising approaches have proved very effective in the long term thus far, each brand faces ongoing challenges related to growing sustainably and remaining relevant.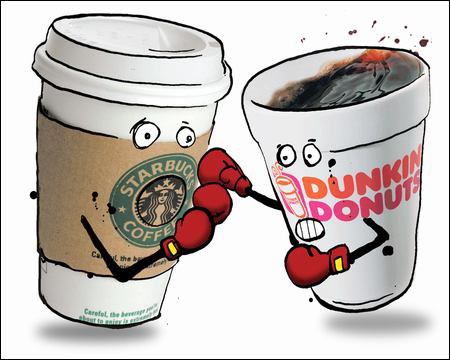 America's Favorite Coffee Brand
Over the years, Dunkin' Donuts has been doing the heavy lifting to evolve their brand to the next echelon on digital, social, and mobile platforms.  Dunkin' is able to double down on focused advertising efforts as they are all developed to function cohesively with their mission statement:
Make and serve the freshest, most delicious coffee and donuts quickly and courteously in modern, well-merchandised stores.
At the core of its ability to produce best-in-class coffee, the company says "Dunkin' uses a unique, proprietary coffee recipe that people love because it's a consistent, smooth, never bitter, rich tasting cup of coffee that they can get every day."  For decades, Dunkin' has been known mostly for delivering one of the most famous ad lines ever ("Time to make the donuts"), but Dunkin' is betting big bucks to ensure that the public knows that they're more than just their 50 varieties of donuts.
The secret to Dunkin's success in the coffee industry (at least in the U.S. market) has been via the most recent rebranding campaign that focused on attracting new generations of customers.  Their most recent tongue-in-cheek ad campaign in September 2018 was the announcement of their rebranding that led them to drop the "Donuts" from their name.  Dunkin' cited that their reason for making this change was because they wanted to be on a "first-name basis" with their customers.
This new branding conveys the company's focus on serving great coffee fast, while embracing Dunkin's heritage by retaining its familiar pink and orange colors and iconic font, introduced in 1973.  Dunkin' tested this new logo extensively before bringing it to market nationally and internationally on everything from their packaging to exterior signage at Dunkin' locations.  The adoption of a single-word name allows Dunkin' the flexibility to expand its reach into new demographics, allowing the brand to continue its road towards domination of the coffee market.
But that's not all that's changed for Dunkin' as the brand chose to supplement this $100 million brand refresh with the creation of a new espresso recipe that increases the amount of coffee to each cup.  The new shot is thicker, richer, and less bitter than the espresso that the company premiered back in 2003.  This new espresso gives Dunkin's beverages a more premium taste without coming at a premium price to consumers.  Whereas Dunkin's new espresso drinks start at $2-$3.39, the same quantity espresso from Starbucks will cost customers anywhere between $5 to $6 a pop.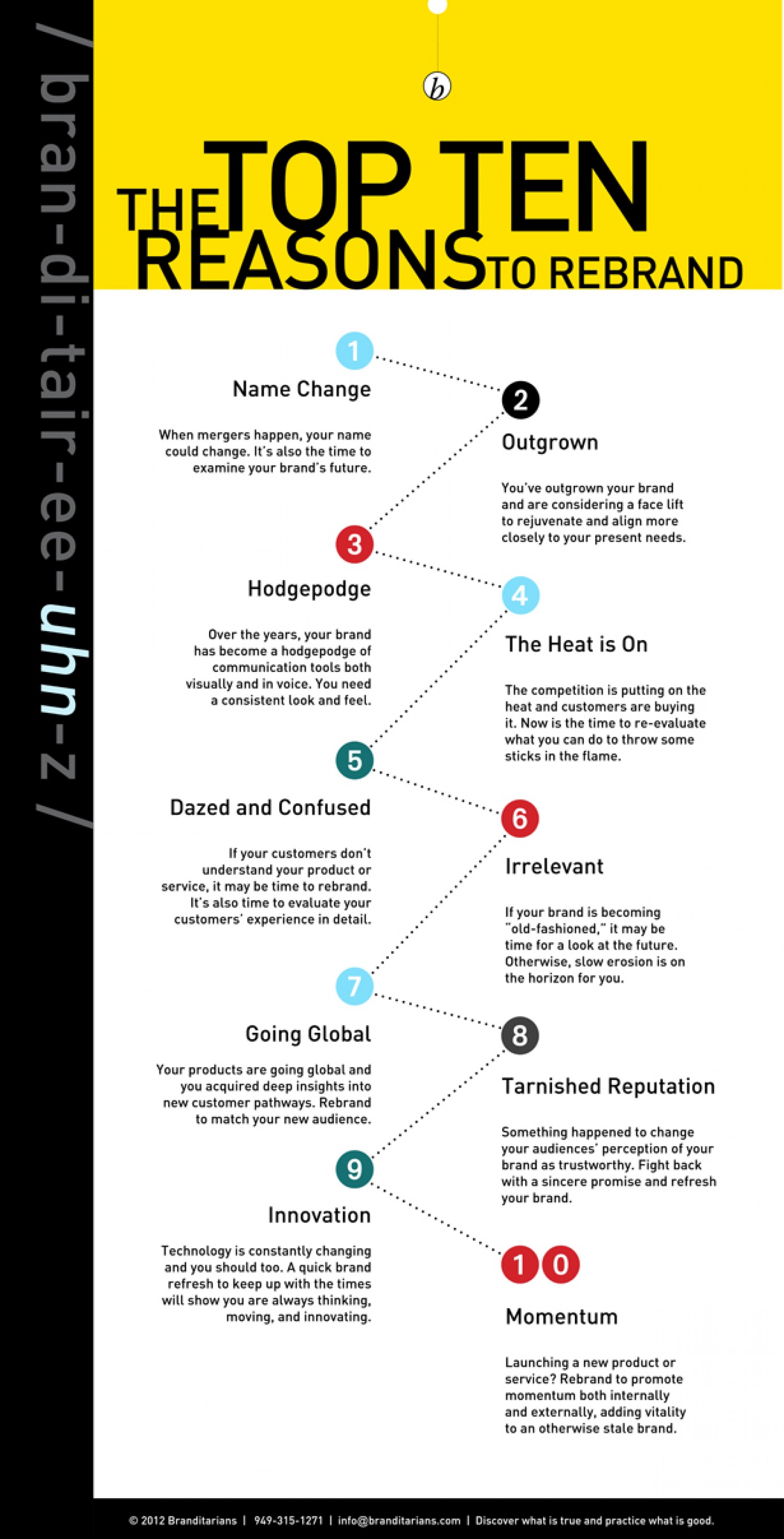 Embracing the Future of Dunkin'
In the end, Dunkin' understands that the ambiance of their physical stores isn't what brings their coffee drinkers back; it's their superior price and convenience.  Dunkin's Vice President of Strategic Initiatives, Dan Wheeler backs up this fact when he mentioned to reporters that "Dunkin' is a place to take five minutes, not 50."  Dunkin's Senior Manager of Consumer Insights, Meredith Morris expanded on this notion as she stated that "[Although] we may aspire to sit around and sip lattes, espresso gives you energy while you are on the run. We have busy lifestyles."  
Dunkin' has more than doubled its stock price on the New York Stock Exchange (DNKN) just in the past 3 years whereas Starbucks' stock price (SBUX) has only increased by a little over 20% in the same time span.  This last branding push by Dunkin' has seemed to even the playing field in the U.S. coffee market where Americans are beginning to embody the company's shortened name.  Even though Dunkin' dropped their "America Runs on Dunkin'" tagline in their latest rebranding campaign, they're still a force de majeure for the global coffee industry that is destined to overtake Starbucks if they continue on this trajectory.
---
Propane, Digital Agency - San Francisco
1153 Mission Street
San Francisco, CA - 94103
415 550 8692