Fixed bid Request for Proposals (RFPs) are functional for commodities but can pose problems for companies that operate in fast-moving markets where innovation is central to their core growth philosophies.
For these innovation-driven organizations, RFPs limit their ability to showcase their creativity due to the nature of the RFP's fixed timeline. There are also major budgetary constraints that RFPs place on the issuing agency. Over the course of the several weeks that it usually takes to construct an RFP from start to finish, customer behaviors in these fast-moving markets may have already shifted that can lead to lost opportunities in the short and long term.
The limited assumptions that are formulated in a fixed bid RFP are typically based on internal stakeholder viewpoints of the market, thus, if those viewpoints are constantly shifting, it can be difficult to pinpoint the strategies for innovation with the plethora of market intangibles present. With that in mind, it is best to look for alternatives to RFPs that can be quickly formulated to take advantage of opportunities in markets that require swift decision-making and implementation of innovative technology and processes. It is for these reasons that it is prudent to stop going through the motions of sending RFPs simply to check off boxes. Instead, companies should seek alternatives to sending out costly and inefficient RFPs to agencies to help them understand their value proposal. Let's look closer at notable RFP alternatives and how to keep your brand value high in these fast-moving markets while sticking to what your company does best in your innovative market.
The Fixed Bid RFP Plague
Traditionally, when companies are looking to for solutions to build something for their organization, they would draft a fixed bid RFP to send out to agencies describing how the solution they're looking for should be built. These organizations are seeking a response from agencies in the form of bids so they can determine which agency they prefer for the price. These fixed bid RFPs have historically served the purpose of allowing companies to compare prices and estimation time(s) of a myriad of agencies to reduce future developmental risks. Although fixed bid RFPs work well with industries such as government, commodities, and others that have well-defined forecasted futures to make assumptions on, faster-moving industries are more difficult to forecast customer needs on.
Fixed-bid RFPs are inherently the most common type of RFP due to their focus on controlling costs and being incredibly predictable. Highly structured departments such as purchasing and legal teams love using them to maintain vendor accountability. Teams need to be wary though, as the highly structured nature of these RFPs mean that they are susceptible to future costs (both in lost time and revenue) associated with the need to configure change orders. Although it may seem that a fixed price RFP reduces risk for the company on paper due to the stability of a fixed price bid, this is merely a false sense of security. Depending on the number of change orders that are configured, a client may end up paying more in the long run which was what we were trying to avoid in the first place.
Once work begins, the goal of the developer is to build what was in the RFP instead of building the best possible product. The problem with this is that the RFP does not factor in the costs to maintain and update what is being developed.  This may lead to the development being rushed to complete within the deadline, thus leading to the solution becoming expensive to maintain and update in the future. If the company wishes to take into account user feedback after the work is in motion, it will eventually lead to delays as the entire RFP would need to be renegotiated to accommodate any addition, no matter how small the change may be.
Are RFPs Dead?
The truth is, the RFP just doesn't fit in with modern business operations. According to a case study, a single RFP takes dozens of hours of draft response time along with weeks or even months of finalist research. In this way, RFPs are the embodiment of waste and bloat in the system as they often provide no actual value to the selection process. RFPs come across as cattle calls for potential agencies and a waste of time for teams on either side. Due to the high costs of configuring an RFP, there presents a definitive barrier to entry for freelancers and bootstrapped small businesses who do not have the ability to outbid large agencies.
RFPs also seldom allow respondents the transparency needed to understand the process completely.  Since finalists for an RFP selection are decided based on a consensus, the process is slow, inefficient and allows members to dodge responsibility and accountability.  This has led companies to consolidate their spending with fewer agencies to ensure they don't need to configure so many RFPs. Many digital companies are now looking to avoid the RFP process altogether due to the risk constraints on the velocity of output that comes whenever you begin putting parameters around the work that you need completed.

There Has To Be A Better (and More Productive) Way
RFPs make a typical pitch ridiculously long and inefficient. The information that a client's RFP is seeking  is pretty standard:
Facts
Figures
Management bios
Client lists
Recent wins and losses
Capabilities
Strategic approach
Case histories
Examples of work
This is great information to know, but since many agencies have a website or pitch deck of information that can be readily found on the internet or via an alternate source that outlines all of this. Asking them to write you up an RFP based on your specific needs is not an effective use of either company's time and resources. Carreen Winters, Chairman of Reputation and Chief Strategy Officer at MWWPR explains how, "People say you should have that information on-hand. However, every RFP requires some level of customization to rethink your experience and present it in a way so that someone who doesn't know you at all can, in a few pages, know not only what you do but how it applies to their needs." Beyond the loss of time and productivity of your employees, you also run the risk of seeing the opportunity with your market or customers diminish all while you're in the process of seeking proposals.
Instead of comparing RFP bids, clients should look at the previous work of a developer or a firm to evaluate who they want to work with.  It's recommended to conduct some form of introductory meeting with potential developers to weed out consultants that could be a bad fit for your company.
Rather than spending the time, effort and resources to issue an RFP to the usual suspects, clients should meet with partners and stakeholders to identify the problem, set goals, map out their journey, and prototype, test, and validate a solution that they can use to make a business case.  This outline should also reflect the following criterion:
Scope - This is where you consider if a full RFP process is worth the time and cost for projects under a specific budget.  If the project budget is small, it might not be worth it to put in massive amounts of manpower to produce an RFP.
Roles - This is where clients must ascertain who will be decision maker(s) during the development process.  Clients need to understand the location of the decision maker(s) and what role they plan to play (how involved they need to be). This gives clients a much better understanding of who is deemed important before you start the process.
After outlining this key information, clients should ask people they know and search online for reviews from previous clients.  This allows clients to compare prices based on units of time rather than units of work.  Once the client has done their due diligence on their preferred agencies, they can implement a workshop approach to paint a much clearer picture of the competing agencies' strengths and weaknesses. This has the potential of providing the client with tremendous savings and minimizes disruption to the their business.
What if You Didn't Spend the Time to Write an RFP?
The black-and-white nature of the RFP process limits the outside-the-box thinking and unconventional approaches that agencies use to solve clients' problems.  RFPs also make it nearly impossible to facilitate any semblance of a lasting relationship that offers true understanding between a brand and the agency it intends to partner with.  The ripple effect being that hurried timelines leave little to no time for agencies to do the research and data collection that an effective strategy is built on.
Since the structure is often heavily focused on the front-end rather than the review and selection process, brands are finding that they end up spending more time talking to themselves than with potential partners.  Due to the painful, annoying, and expensive nature of the RFP process, agency leaders may be reluctant to pitch if they sense the company has already chosen an agency, is just going through the motions, or simply trying to collect agency ideas.  This has left agencies with a bad taste in their mouths on the process, instead opting to undertake their own search for potential partners on their own terms rather than participating in the RFP free-for-all.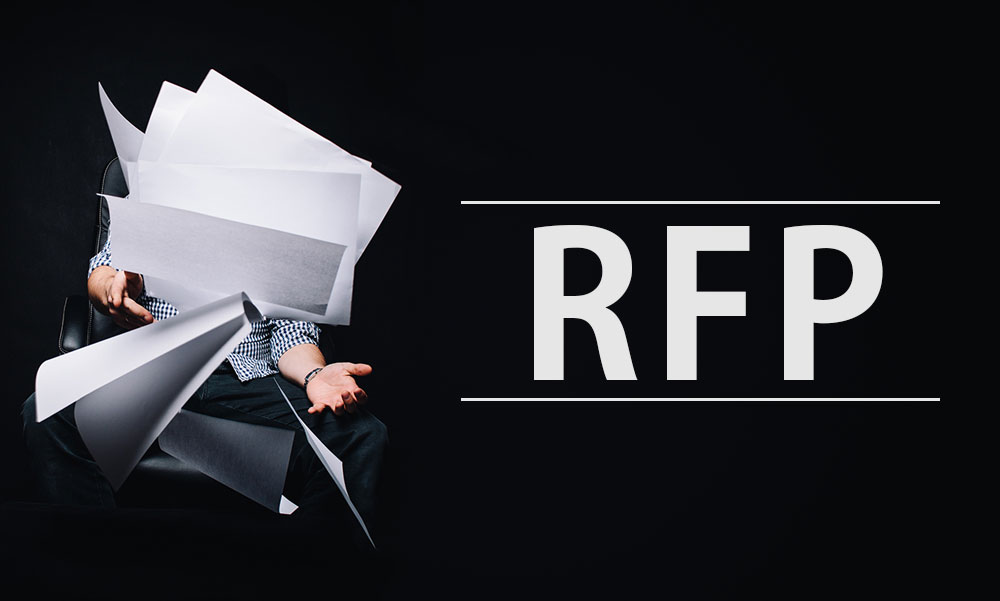 Opportunities and Takeaways
The narrow focus of RFPs creates far too many blind spots for agencies to do their job effectively.  A single document can't effectively communicate the nuances of organizational context and business rationale as they relate to a creative strategy.  This is why having a more flexible, mutual vetting process allows clients and vendors to ascertain each other's expertise in the contents of the problem that needs solving.  By embracing this process of mutual vetting, your company is able to set the tone for the client-agency relationship, ultimately determining how effective you will be as a creative partner.  This is much more advantageous to the client as the agency is able to communicate their creative intangibles.
In the end, the more time your company spends on developing a shared understanding and relationship with a potential partner, the easier it will be to connect with like-minded people who speak the same language in the future.  Once you have developed a list of vendors that fit your broadest needs, spark the conversation in the direction of your business goals with the intention on sourcing a solution.  You may not get the answer you're looking for immediately, but over time, you'll end up building a rolodex of supportive partners that understand your vision and will support your growth (plus, you'll save a ton of time on not having to configure RFPs anymore).
---
We are a digital agency that strategize, design, and build exceptional digital experiences that solve complex brand challenges.
Propane, Creative Agency
1153 Mission Street
San Francisco, CA - 94103
415 550 8692