As companies continue to expand into cryptography with components such as e-wallets for cryptocurrencies leading the way, blockchain has become the glue that holds together these innovative ventures.  
Overall, two industries are leading the pack in their quest to integrate blockchain solutions in their networks in hopes of streamlining operations and decreasing their financial risks.  Those industries are banking and healthcare.
These industries are drawn to blockchain for its faster payment processing times, unprecedented access to distributed financial ledgers, and much more.  Let's review how blockchain is positively affecting these two industries and what changes you should expect to see in the future because of this financial integration.
What Exactly is Blockchain?
The most simplified description of a blockchain is that it is a digital public ledger of all cryptocurrency transactions that is completely decentralized.  Each transaction is recorded and kept on a block of other transactions in chronological order, thus creating a centralized record keeping solution.  If a transaction was made via a cryptocurrency that was recorded on the blockchain, it could be traced back to its source immediately.  This saves market participants the time and effort of having to track their transactions manually.
On the other hand, if an organization were to be hit by ransomware that called for them to pay them a certain denomination of Bitcoins to release their data, then that transaction could be traced back to the hacker via the blockchain.  What makes the blockchain so incredibly versatile is that its database isn't stored in any single location.  This is advantageous from a security standpoint in that the public records that are present on a blockchain hosted by thousands of computers cannot be easily corrupted by a hacker.  
Banking & Blockchain: Following the Trail of Financial Innovation
Banking institutions have expanded to reach global countries in recent decades, due to the lack of support from the traditional banking infrastructure that most of us grew up with.  Although the technology behind blockchain is complex, how it is helping the banking industry is not.  In short, blockchain allows banks to give financial services to billions of people around the world, including those in third world countries who don't have access to traditional banking.
As banking institutions continue to move away from traditional business models and towards a more complex technology-based financial structure, blockchain is the solution they are leaning on to create an environment to support a higher level of innovation that they need to grow sustainably.  We can see this trend already taking shape as recent Global Fintech Report noted that 77% of Fintech institutions expect to adopt blockchain as part of an in-production system or process by 2020.  Better yet, PwC's 2018 global blockchain survey shows that 84% of organizations report that they are already working with blockchain.  This shows how the industry has already begun to ramp up their infrastructure to support the inclusion of new technology that will allow them to rapidly expand in the future.
What Does Blockchain Have to Offer Banking?
Distributed ledger technologies such as blockchain allow banks to improve the processes around the management and sharing of ledgers and transactions that offer a level of immutable rigidness that partners and consumers alike have been longing for.  The distributed nature of blockchain makes it nearly impossible for a single hacker (or even a team of hackers) to hack a ledger due to the information being broken up over a broad network of participants.  These systems are designed so that everybody's ledger contains identical information, but no single network controls the ledger entirely.
Avivah Litan, a Gartner Vice President of Research, says that "once banks are comfortable using blockchain-based foreign exchange (FX) networks such as IBM's World Wire, and believe it's efficient, reliable and secure, they will likely open up those payment services to business and consumer customers."  Overall, blockchain has a lot to offer banking institutions including (but not limited to):
Reduced Fraud
Blockchain technology can help banks and others identify individuals quickly and accurately through a blockchain-enabled digital ID, thus decreasing fraud. This allows operating costs to decrease, thereby leading to incredible savings benefits.
Faster Transactions
Due to blockchain's decentralized structure, it can do in seconds transactions that conventionally take three or more days to complete.
Transparency and Accessibility
Blockchain records and locks transactions and users can access the full historical data easily. Thus, it offers greater transparency compared to the more secretive traditional banking sector.
Reduced Transaction Costs
Accelerated transfer times allows banks to render third parties and their charges unnecessary. Therefore, businesses that do multi-nation transactions stand to benefit from the decrease in fees that could also be carried over to their customers.
The fact remains that consumers are beginning to rapidly lose trust in banking institutions for various reasons.  Blockchain gives the banking industry the opportunity to rebuild this trust with a decentralized technology model that offers a much more security and transparency without giving up any type of convenience that consumers are accustomed to.  This allows banks to better facilitate trust between trading partners using a secure ledger that allows everyone to view and track the trail of transactions at a high level glance.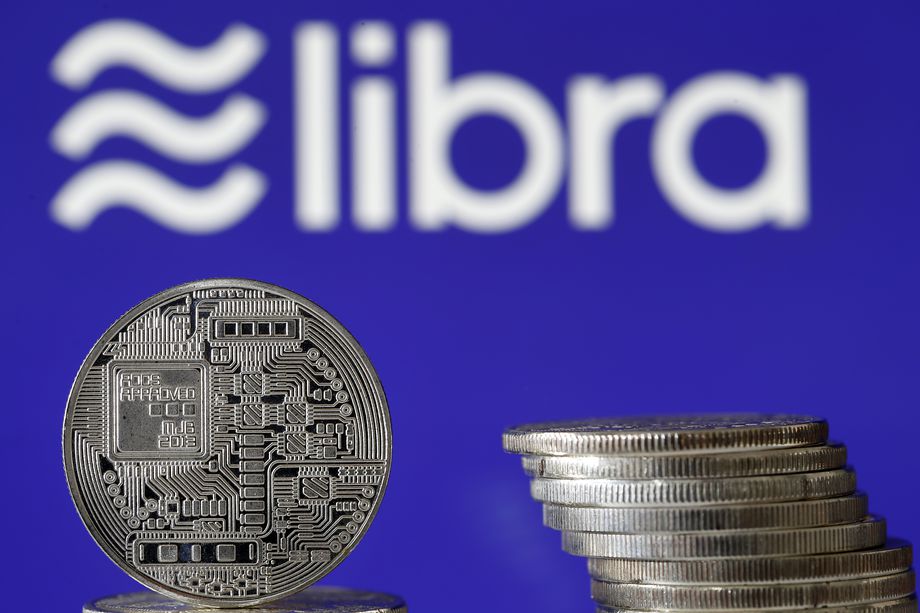 What's the Deal with Facebook's Libra Cryptocurrency?
Very few details have been released regarding the Facebook's new Libra cryptocurrency, but what we do know is that it will let consumers buy things or send money to people with nearly zero fees.  Basically, Facebook created Libra to act as the ipso facto mainstream replacement to PayPal which it aims to launch publicly in Q1 2020.  Facebook will give you the option to cash out your Libra funds via a third party wallet or their own Calibra wallet that will be built into WhatsApp, Messenger and its own app.
Due to the possibilities of the potential massive adoption of Libra and Facebooks' questionable track record with data-sharing, Capitol Hill has taken notice and is in the process of holding hearings that will assess if the organization has any type of agenda other than what they have already detailed.  If allowed to proceed with Libra, Facebook will have access to incredibly deep insights into consumer spending patterns.  The one thing working in Facebook's favor during these hearings is mainly that they will not operate Libra and that the cryptocurrency is supposedly decentralized because it is based on blockchain.
But Libra is not truly decentralized as it is governed by the Switzerland-based Libra Association which is tasked with preventing the emergence of a bitcoin-like oligarchy to rule over Libra.  It will be intriguing to see what the future holds for Libra if it is approved by the Senate and how consumers will use this blockchain-based cryptocurrency in their day-to-day.
Which Banking Industry Companies Are Capitalizing On Blockchain?
Blockchain has been making its rounds in the banking industry lately, with a few select companies developing financial solutions to accommodate their customers.  These companies include:
Barclays
Barclays has recently begun to gobble up blockchain patents and invest large amounts of capital into innovative blockchain technology solutions.  This initiative is based on the company's belief that Blockchain is a fundamental part of the new operating system for the planet.
JPMorgan Chase
The nation's largest bank is one of the creators of Quorum, a restricted version of the Ethereum blockchain built especially for enterprises looking to move tasks performed by back-office middlemen to the distributed ledger. It also recently announced JPM Coin, which is said to be a direct competitor to Facebook Libra.
Mastercard
The credit card behemoth has applied for 80 blockchain-related patents. Sixteen have been granted, including one for linking cryptocurrencies to traditional bank accounts and another for increasing the privacy of blockchains.
How Does Blockchain Benefit the Healthcare Industry?
The healthcare industry is full of opportunities for technology-based innovations.  One of the challenges healthcare companies face is the lack of a secure platform to store and share data which leads them to become victims of hacking because of outdated infrastructure.  Blockchain technology allows healthcare networks to trade already verified practitioner credential information with one another, thus eliminating the need to spend months to collect and validate patient data independently while also decreasing risks.
Blockchain is gaining traction as a tool that could help solve some of the healthcare industry's age-old problems that have resulted in wasteful spending and higher costs for providers, insurers and patients.  According to a report by BIS research, by 2025, the healthcare industry can save up to $100 billion per year by 2025 in data breach-related costs, IT costs, operations costs, support function and personnel costs, counterfeit-related frauds and insurance frauds if they incorporate the blockchain technology.  John Bass, CEO of Hashed Health says that "blockchain is best put to use when addressing problems of trust, transparency and incentive alignment, and the healthcare industry is full of such issues."
Blockchain is set to become an essential part of consent management in healthcare, thereby enabling easier sharing of information between healthcare organizations.  Whereas consent is currently stored in individual providers' electronic health records systems for the most part, blockchain technology can store patient consent for data exchange and privacy preferences and treatments on the blockchain, so they can be accessed by all stakeholders.  This smooth data sharing between providers can lead to accuracy in diagnosis, effective treatments, and cost-effective ecosystem.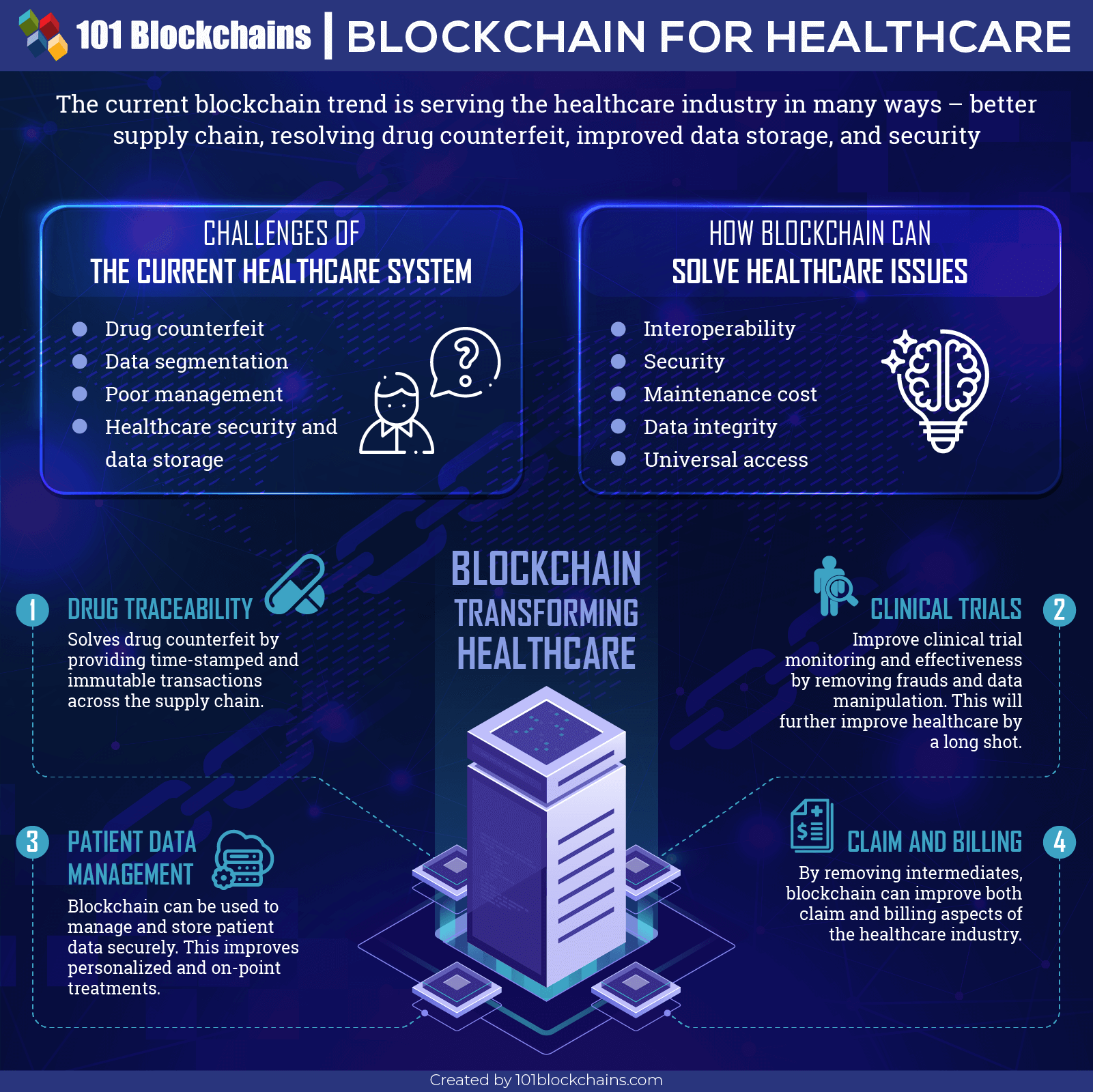 Blockchain Applications In Healthcare

A plethora of blockchain-based healthcare companies have popped up in recent years, including some of the largest healthcare insurers in the U.S.:
UnitedHealth and Humana
Two of the largest health insurance providers in the U.S., UnitedHealth and Humana, have begun to pursue a blockchain pilot aimed at improving the quality of healthcare data.  The pilot is aimed at helping with the industry's data reconciliation problem.
IBM and Aetna
IBM and Aetna (owned by CVS Health) joined PNC Bank and IBM in developing a blockchain-based health utility network.  This solution could help hospitals tackle issues around data transparency and access, as well as the accuracy of the data, within a broadly collaborative ecosystem.
What Does the Future Hold for Blockchain Technology in the Healthcare Industry?

According to Statista, 55% of healthcare applications will have adopted blockchain for commercial deployment by 2025.  This is not to mention that MRFR proposes that the global Blockchain Technology in Healthcare Market is likely to garner $42.06 million from now until 2023.  However, blockchain technology is no panacea for the many problems facing the healthcare industry.

Thanks to its ability to improve data security, synchronize vast quantities of data and ensure transaction integrity among a variety of industry participants, blockchain could have important security applications in the healthcare industry.  However, for blockchain to be scalable in the healthcare industry, it will likely need to encompass enormous data of medical documents, records, images, lab reports, and transaction details which all requires a massive amount of server storage space.  Regardless of the technical hurdles that legal teams, technologists, executives and consumer advocates may face currently, blockchain technology still holds its ground as the future solution to help sustain the growth of the industry at large.
Closing Thoughts
Although banks and healthcare organizations are already innovating with blockchain, the technology is still relatively new,  At this point, the technology is so incredibly advanced that it may have to wait for regulators to catch up.  It's not always clear what to expect in terms of protection, privacy, potential risks, and dispute resolution when it comes to blockchain, but those issues can all be solved.  As more research
pours in on how blockchain can adapt to the banking and healthcare industries, we can begin to further ascertain the long-term benefits of blockchain technology for other industries.

---
Propane, Digital Agency - San Francisco
1153 Mission Street
San Francisco, CA - 94103
415 550 8692